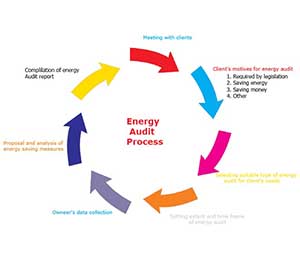 An energy audit is an inspection survey and an analysis of energy flows for energy conservation in a building. It may include a process or system to reduce the amount of energy input into the system without negatively affecting the output. In commercial and industrial real estate, an energy audit is the first step in identifying opportunities to reduce energy expense and carbon footprint.
When the object of study is an occupied building then reducing energy consumption while maintaining or improving human comfort, health and safety are of primary concern. Beyond simply identifying the sources of energy use, an energy audit seeks to prioritize the energy uses according to the greatest to least cost effective opportunities for energy savings.
Striving For client Satisfaction For Energy Conservation. APC's Motto is "A Step Ahead…" which Reflects Our Commitment In Understanding Our Clients' Needs & Providing Suitable Cost Effective Customized Energy Saving & Power Quality Solutions To Clients . We Operate As Enthusiastic, Dedicated, Focused Team Always Striving To Ensure Maximum Uptime For Customers' Critical Applications.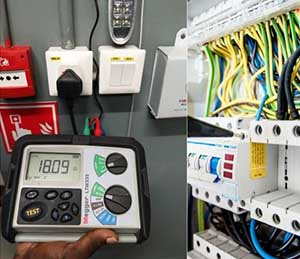 Electrical Safety Audits helps in identifying: Electrical hazards to minimize the risk of accidents like fire due to short-circuiting, Areas of risk or vulnerability in electrical systems and installations, Non-compliance with the legislation and best practices. Electrical Safety Audit has become crucial to the proper maintenance of the facility. In addition, rising fuel costs coupled with increased global competition is forcing industries/buildings and other facilities to slash energy costs. Electrical Safety Audit is conducted to investigate if complaints and concerns by workers regarding electrical safety is substantiated and if there are other electrical safety or general safety hazards at the facility that should be addressed. The audit focus on current electrical safety conditions, and selected other safety measures for the facility.
Electrical Safety Audit (objective)
- To present the current status of the facility before the top management, such that better monitoring is possible in future.
- Diagnose Various on-going losses in the facility.
- Recommend Measures for Improvement and Electrical Safety.
Electrical Safety Audit Helps You Avoid Fire Tragedies
Fire tragedies are not new in India. The country has witnessed several devastating fires that have claimed hundreds of innocent lives and damaged property worth billions. Fire also results in the loss of business, of goodwill and effects environment severely. Damages in industrial/building/office fires, for instance, is unlimited where the fire occurs, but also effects other adjacent facilities around it.
From 2002 through 2014, there were 3,378 workers who died from on-the-job electrical injuries 4.7% of all occupational deaths. That's almost one death per day. Electricity the fourth leading cause of injury-related occupational death.
- Contact with overhead power lines was the most common cause of electrocutions, resulting in 42% of all on-the-job electrical deaths.
- The second most common cause of electrocutions was failure to properly de-energize electrical equipment prior to commencing work
- The third most common cause was contact with electrical components mistakenly thought to be de-energized due to a mistake in wiring or re-wiring, or misidentified wiring.
Electrical Safety Audit (Benefits)
- Assessment of the degree of compliance with the applicable safety regulatory requirements
- Assurance of the safety management functions
- Training to concerned staffs and officials for perfect operation of equipment and facility
- Guidance to emergency procedures
Send Us Your Requirement
We are providing this form to our clients. They can use this form to register the products purchased
through our distributors.